1: Commit to a pre-defined planning timeline
At an early stage of the event planning process, create a detailed schedule of tasks along with a realistic, workable timeframe. You'll find one such a checklist for the corporate event planning on this page.
You should include all pre-event tasks and note who is responsible for each.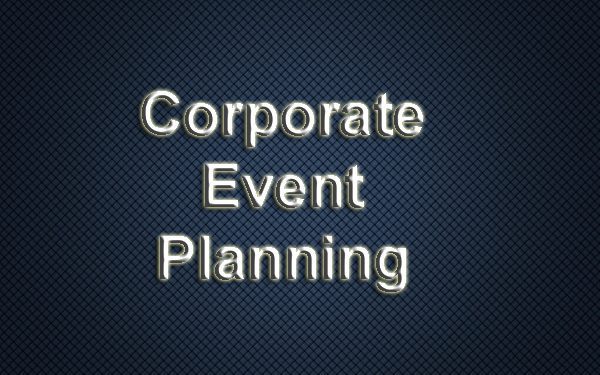 By doing so, you can complete tasks in a methodical manner, avoiding last-minute rush and problems. You'll also ensure you won't forget things. Overall, these tips will make sure you have a positive experience of planning and holding the corporate event.
2: Plan to bring a touch of creativity to the event
A study conducted by Meeting Professionals International revealed that content delivery is a big problem with corporate seminars. People want to be inspired and motivated at a seminar. They don't want information and tips presented in a dry manner.
And that calls for considerable creativity on all organizers' part.
Brainstorm fun activities, new methods to drive home a point, ways of creating involvement and more. You'll be surprised at the innovative checklists of tips and ideas you come up with for your corporate event if you put your mind to it.
3: Key tip: Know of what event participants really want
Here's a checklist of what attendees want from corporate events. See how you can work them into your show. Adapt these tips to your situation.
Knowledge of the program and activities in advance.
Convenient stay arrangements.
To be treated as an important individual — not as a registration number!
Smooth, easy registration process.
Innovative content and delivery, current educational materials.
Cutting-edge ideas. No one wants old, rehashed information.
Plenty of time and the opportunity to network with other invitees, VIPs, and speakers.
Discussions in small groups.
Lots of interesting sessions.
Comfortable furniture and other physical infrastructure.
If it is a multi-day corporate conference, a newsletter giving updated information every day.
If there is a new technology involved, a chance to use some or all of that technology if that's possible.
An exhibit hall featuring many vendors if that applies in your situation.
Utilize these corporate event planning tips and you'll find your business event going much more smoothly. The above checklist for event planning can be used for conferences, seminars and other types of events.
More on Checklist for Event Planning
Here's a handy checklist for event planning. It's broken down into a rough timeline. There are no hard and fast rules, though. Business event organisers should come up with their own checklists and plans adapted to their events.
Include a target date and a completion date for each item on the event planning checklist.
Checklist 1: Approx. 4 months before the event:
* Confirm the number of participants; collect their contact details
* Finalize event budget
* Decide on the event theme
* Confirm main speakers
* Confirm entertainers
* Book venue
* Decide on an agenda
* Hire the photographer and/or videographer
Checklist 2: Planning for 2 – 3 months before the business event:
* Put together a package for the event including registration forms, agenda, venue, and other information
* Mail invites or registration pack
* Organize caterers, wine suppliers, florist, etc
* Decide on audio-visual arrangements; confirm with vendors
* Order gifts and other such items
Checklist 3: 1 – 2 months before the event:
* Sign all contracts (read the fine print and review with legal counsel before doing this!)
* Set assignments for individual speakers
* Check out the menus, room bookings, etc
* Go over the list of equipment for the business seminar
* Finalize things like leisure activities, badges, agendas, timetables, etc.
* Take final decisions on menus, décor, floral and other arrangements.
Checklist 4: Planning for 1 month before the event:
* Decide on setup for stage, venue, and details of rooms.
* Ensure that electrical outlets and cabling is taken care of at the venue for all necessary equipment.
* Finalize contents of the welcome basket/welcome drink/meal, etc with the hotel management.
* Let the hotel know who your VIPs are.
* Finalize the guest list.
Checklist 5: 10 days before the business event:
* Go over all previous checklists and ensure you are not missing out anything. The organizers may have to add your own specifics to each.
* Your guest list should be more accurate by now
* Prepare seating charts
Checklist 6: Planning for the day before the event:
* Re-check your checklists
* Make arrangements to have enough cash on hand
* Meet with committee members, staff and hired help to review duties.
* Complete preparing all signage and directions
* Have all critical phone numbers available on a single sheet, for the organizers.
* Confirm with all outside vendors
* Finish putting together materials for delegates
Checklist 7: Planning for Day 1 of your event:
* Have all checklists handy
* Have the full guest list, in alphabetical order, ready at the reception along with name tags. Have extra name tags available.
* Set the headcount for all events
* Refer to your seating charts and set out name tags and table numbers accordingly.
Checklist 8: After the event:
* Settle all bills
* Write and send thank-you notes, gifts, any follow up material.
* Account for all income and expenditures
That completes the checklist for event planning. Business event organizers will of course, have to change this list to suit their specific requirements.