Malaysia CONTROL WORLD EXPO stands as the beacon of innovation in the heart of ASEAN, dedicated exclusively to the realm of test, measurement, and inspection solutions. This extraordinary gathering caters to high-value sectors, including aerospace, automotive, electronics, and medical devices, where precision and quality are paramount.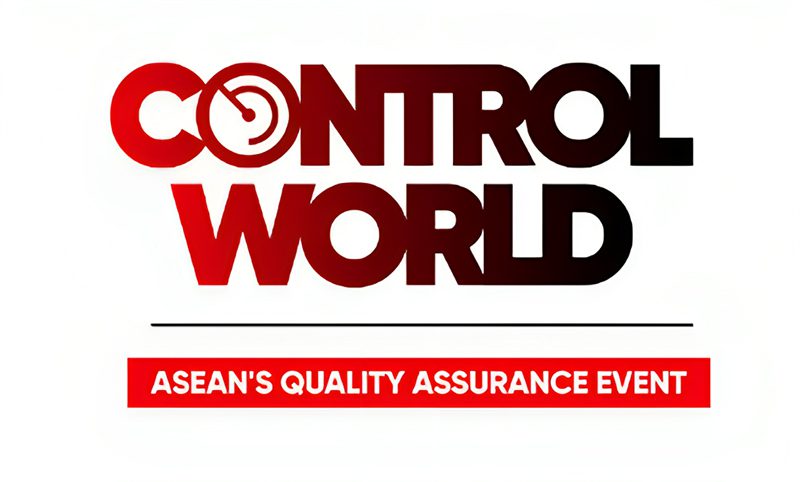 Picture this: a dynamic platform where manufacturers and suppliers of cutting-edge test, measurement, and inspection solutions converge to unveil their latest offerings. It's not just an exhibition; it's a vibrant showcase that beckons industry professionals from across the ASEAN region to witness the future of quality assurance.
But that's not all; Malaysia CONTROL WORLD EXPO goes beyond the glimmering displays and bustling stalls. Nestled within its core is a comprehensive conference program, where the latest trends and developments in the quality assurance industry come to life. This isn't just a trade show; it's an educational journey through the ever-evolving landscape of precision and excellence.
Unveiling Freshest and Innovations
What truly sets this event apart is its dedication to unveiling the freshest trends and innovations in test, measurement, and inspection solutions. In a region where manufacturing and processing industries are growing at a breakneck pace, this Expo serves as the compass, guiding these industries towards a future powered by Industry 4.0.
The manufacturing landscape is undergoing a profound transformation, and quality assurance has emerged as the North Star of this revolution. With the relentless pursuit of perfection, ASEAN manufacturers are investing heavily in state-of-the-art Test, Measurement & Inspection (TM&I) equipment, making it a focal point of this exceptional event.
Here, you'll find not just an exhibition but a glimpse into the future. A future where Industry 4.0 reigns supreme, and quality assurance solutions rise to the occasion. This Expo showcases a myriad of offerings tailored to the needs of ASEAN manufacturers as they ascend the value chain.
Beyond the gleaming exhibits, there's a free-to-attend conference program designed to enrich the minds of quality assurance visionaries, manufacturing wizards, and R&D leaders. It's a place where ideas flourish, strategies are forged, and partnerships bloom. It's where you gain insight into the very heart of Industry 4.0 and its implications for quality assurance.
Media Generation Ventures Limited, a company that is aware of the pulse of innovation, masterfully orchestrates the event. And this grand spectacle unfolds annually at the iconic Kuala Lumpur Convention Centre, where the dreams of precision, innovation, and quality assurance converge.
Malaysia CONTROL WORLD EXPO isn't just an event; it's an emotion. It's a celebration of innovation, a tribute to excellence, and a testament to the unrelenting spirit of progress. Join us, and together, let's shape the future of quality assurance in the Industry 4.0 era.
Key Exhibitors in the Event
In 2022, the event attracted over 80 exhibitors and 3,000 visitors. Some of the key exhibitors included:
Bowers Group
Hexagon Manufacturing Intelligence
Mitutoyo
Nikon Metrology
Renishaw
Zeiss Industrial Metrology
Discover the Profound Benefits
Embark on a journey of innovation and excellence at Malaysia CONTROL WORLD EXPO, where a world of opportunities awaits you. Here, the rewards of participation extend far beyond expectation:
Access the Cutting Edge
Step into the future with exclusive access to the latest in test, measurement, and inspection solutions. Malaysia CONTROL WORLD EXPO transforms into a stage where leading manufacturers and suppliers unveil their newest creations. It's your golden ticket to explore what's on the horizon, delve into the latest technologies, and decipher the trends that will shape your industry. Your challenges, met with innovative solutions.
Forge Connections That Matter
Connect, converse, and collaborate with a vibrant community of quality assurance professionals from across ASEAN and beyond. Malaysia CONTROL WORLD EXPO is your gateway to a network of like-minded individuals, all driven by the pursuit of excellence. Immerse yourself in an environment where knowledge flows freely, ideas are born, and lucrative business opportunities abound.
The Wisdom of the Experts
Prepare to be enlightened by a comprehensive conference program that covers the spectrum of quality assurance. From emerging technologies to best practices, real-world case studies to regulatory updates, the knowledge you gain here is unparalleled. Experts in the field will guide you through the ever-evolving landscape of quality assurance, ensuring you stay at the forefront of your industry.
Unearth New Alliances
In the heart of Malaysia CONTROL WORLD EXPO lies the treasure of new partnerships. With exhibitors hailing from every corner of the globe, you're bound to discover the perfect allies for your business. Forge relationships that transcend borders and create pathways to mutual success.
A Glimpse into a Thriving Market
Malaysia is a burgeoning market for test, measurement, and inspection solutions. By participating in Malaysia CONTROL WORLD EXPO, you gain invaluable insights into this dynamic landscape. Decode market trends, identify lucrative opportunities, and position your business for remarkable growth.
Additional Rewards Await
But wait, there's more:
Harvest Leads and Sales
Malaysia CONTROL WORLD EXPO is your stage to shine. With thousands of visitors converging from ASEAN and beyond, it's a fertile ground for cultivating new leads and driving sales. The potential for your business knows no bounds.
Amplify Your Brand
Elevate your brand to new heights as you take center stage at Malaysia CONTROL WORLD EXPO. This high-profile event commands the attention of the media, giving you the spotlight you deserve. Bask in the glow of increased brand awareness and the buzz of newfound publicity.
Establish Expertise
Seize the opportunity to position yourself as an authority in your field. Whether through participation in the conference program or as an exhibitor, you can bolster your credibility and earn the trust of your target audience. It's your chance to shine as the expert you are.
In essence, Malaysia CONTROL WORLD EXPO isn't just an event; it's a transformative experience. It's your portal to the forefront of innovation, a hub for building invaluable connections, and a catalyst for business growth. Be part of this extraordinary journey to redefine excellence in the world of test, measurement, and inspection. Your future starts here.