Fairs, exhibitions, trade shows, and expos are important events in Malaysia that bring together people from different industries to showcase their products, services, or skills. These events range from technology expos to cultural festivals and home and garden exhibitions.
They provide a platform for businesses to network with others in their field and increase brand awareness. Additionally, they also serve as an opportunity for the public to learn more about what is available in the country.
We will delve into some of Malaysia's most popular fairs, exhibitions, trade shows, and expos annually. It will also discuss the largest exhibition center and how these events contribute to the national economy.
What is a Fair and Exhibition?
A fair and exhibition are events designed to bring people together for the purpose of showcasing products, services, or ideas; but what is the difference between them?
A fair is typically a temporary event that may occur annually or bi-annually in which exhibitors display their products and services to potential buyers. This allows guests to interact with vendors, view demonstrations, and even participate in activities or contests.
An exhibition is similar in scope but often with more focus on art or other forms of expression than tangible goods. They are generally larger than a fair, featuring multiple exhibitors from different industries. Exhibitions may also have educational components such as lectures or interactive displays about the topic being showcased.
At both types of events, it is common for vendors to offer discounts for purchases made at the event, allowing individuals to save money while getting an up close look at the product being offered. Additionally, many businesses use these events as networking opportunities; connecting with other like-minded individuals and building relationships that can be beneficial later on down the road.
Technology Expos
At the forefront of innovation and advancement, Technology Expos offer a unique opportunity to connect with industry experts and explore cutting-edge solutions.
These events provide attendees with access to:
The latest gadgets, products, and services from leading technology companies
Interactive demonstrations of new technologies
Networking opportunities within the technology industry
Professional development workshops for on-site training.
These expos have become increasingly popular in recent years as businesses look for ways to stay ahead of the competition. They create a platform for companies to showcase their latest advancements in software, hardware, robotics, AI, and more.
Attendees can learn first-hand about new technologies that are transforming industries around the world and gain valuable insight into how they could be applied in their own workplace. Additionally, they provide an invaluable opportunity to build relationships with vendors and establish partnerships that may benefit both sides long-term.
As such, Technology Expos are essential for those looking to stay up-to-date on the latest technological trends while forging strong connections within the industry.
Arts, Crafts, and Antique Fairs
Featuring a variety of items from handcrafted works to vintage collectibles, Arts, Crafts, and Antique Fairs are an engaging way to explore the creative endeavors of local artisans and discover unique finds.
Despite their seeming focus on physical objects, these events also provide an invaluable opportunity for attendees to engage with like-minded individuals and share stories about the pieces they find.
Moreover, many fairs feature demonstrations by master craftspeople so that visitors can learn the techniques used in creating certain works of art or furniture.
This interactive component often serves as a source of inspiration for new projects or ideas that people can take home and implement themselves.
Arts, Crafts, and Antique Fairs offer something for everyone; from those who appreciate fine cuisine made from locally sourced ingredients to those looking for one-of-a-kind treasures from days gone by.
Many vendors at these events come from a wide range of backgrounds but share common goals such as promoting their own businesses or simply bringing joy through handmade arts and crafts.
The chance to interact with other people who have similar interests makes it easier for attendees to make connections with others in their community.
This type of event provides an exceptional opportunity for communities to come together around shared interests while still allowing room for individual expression.
Business Trade Shows
Business Trade Shows offer an opportunity for professionals to demonstrate and discuss their products, services, and ideas in an engaging environment. These events provide a platform for companies to exhibit the latest technology, network with industry peers, learn about new marketing strategies, and experience valuable insights from other businesses.
The primary goal of these events is to increase sales and build relationships within the industry. Attendees have the opportunity to see demonstrations of new products and services, meet potential partners or investors, and expand their knowledge base through seminars and talks presented by industry leaders. Additionally, business trade shows offer attendees a one-stop shop for all their needs related to their business.
These events also provide an invaluable source of market intelligence as well as being beneficial for networking purposes. They are ideal places to discover current trends in the field and make connections that could be beneficial in the future.
By attending a business trade show, attendees can gain access to resources they may not otherwise have access to such as cutting-edge technology or innovative strategies that can help them stay ahead of the competition.
Music Festivals
A musical extravaganza, Music Festivals provide an unparalleled opportunity for attendees to experience a diverse range of genres and discover emerging artists from around the globe.
In Malaysia, music festivals have become increasingly popular as a way to celebrate local culture and bring together vibrant communities of music fans. Whether it's a two-day rock festival or a week-long world-music event, these gatherings offer something for everyone.
From art installations to marketplaces, food trucks, and more, there are plenty of activities for visitors of all ages.
The popularity of music festivals in Malaysia has grown steadily over the years with many cities hosting multiple events throughout the year. For example, Electric City Music Festival brings some of the top international EDM acts alongside homegrown talents creating an unforgettable experience.
The annual Christmas Jazz Festival is another big draw featuring performances by renowned jazz musicians from across the Asia Pacific while Baybeats celebrates independent music with their unique blend of alternative rock and pop sounds.
Music festivals in Malaysia also provide rich opportunities for networking and collaboration between artists, promoters, and industry professionals alike. The sheer variety on display at these events offers insight into new trends in music as well as exciting avenues for potential partnerships that can open up further creative opportunities down the line.
Fashion Shows
The fashion industry is constantly changing and evolving, and the best way to stay at the forefront of these changes is to attend fashion shows. Fashion shows provide an opportunity for designers, models, photographers, stylists, makeup artists, and other professionals in the industry to come together and showcase their latest creations.
From large-scale international events featuring renowned designers to smaller local productions held by aspiring creatives, fashion shows are a great way for industry insiders to network with one another. In Malaysia specifically, there are many opportunities for fashion enthusiasts; from dedicated exhibitions like Kuala Lumpur Fashion Week showcasing up-and-coming talent to runway shows held in shopping centers that feature established brands.
Fashion shows are also a great way for individuals who simply love fashion to experience it firsthand. By attending a show, audiences can get inspired by fresh new designs as well as discover trends before they hit the mainstream market. As well as being visually stimulating experiences filled with bright lights and elaborate costumes or accessories that catch your eye – you'll also be able to hear music that accompanies each look as they make their way down the runway.
Additionally, many of these events also feature after-parties or food stands where attendees can mingle with people from all corners of the style world while enjoying some refreshments or snacks. This vibrant environment offers an exciting chance for those passionate about clothing and design to connect on a higher level than just through online platforms such as Instagram or Tumblr – making it easy for them to express themselves through their own personal style regardless of age or background.
Automotive Exhibitions
Automotive exhibitions provide automotive enthusiasts with an exciting opportunity to explore and discover the latest developments in the industry.
From concept cars and futuristic designs to classic models, these events offer a chance to get up close and personal with vehicles from all corners of the market.
Automotive exhibitions also highlight the advances in technology that are revolutionizing the way we drive, such as self-driving car systems, improved fuel efficiency, and alternative energy sources.
They provide a platform for manufacturers to showcase their newest products and innovations, allowing attendees to see firsthand what is available or coming soon.
Organizers of automotive exhibitions ensure that visitors have plenty of chances to connect with industry professionals through panel discussions, seminars, networking opportunities, and more.
Events often feature interactive displays where guests can learn about advanced features and get hands-on experience driving virtual cars or simulating real-world conditions like weather changes or traffic congestion.
With exhibitors ranging from automakers and component suppliers to tech companies and aftermarket specialists, there's something for everyone at these events.
In addition to being informative and entertaining experiences for attendees, automotive exhibitions offer vendors an excellent opportunity to reach potential customers on a large scale.
Companies can use these events as platforms for brand promotion by displaying their products prominently or demonstrating how they work with interactive demos.
Education Expos
Educational expos provide an unprecedented opportunity for attendees to learn about the latest developments in the educational landscape. These events are typically organized by organizations, employers, and other groups that have a vested interest in promoting education.
Many educational expos will feature speakers from leading universities, workshops on specific topics such as student loan repayment options or financial aid opportunities, and booths with representatives from various colleges. At some of these events, there may be a career fair portion where employers can meet prospective employees who are interested in pursuing careers within their field.
Additionally, many of these events also include activities for kids such as fun learning games or STEM-related activities designed to get them excited about learning. Oftentimes, educational expos will include vendors who offer services related to higher education such as test prep courses or scholarship assistance programs.
Attendees can also gain insights into emerging trends within the educational sector by visiting booths hosted by industry experts and government representatives. Educational expos are not just limited to traditional classrooms; they often encompass topics related to online learning initiatives, alternative forms of schooling like homeschooling and distance learning programs, and more modern technologies used in teaching today's students.
These events provide a platform for educators and students alike to come together and share ideas on how best to prepare students for success in college and beyond. Through networking sessions with recruiters, informational lectures by guest speakers, and hands-on demonstrations of cutting-edge technology tools being used in the classroom setting today – all while having access to resources that can help facilitate their transition into higher education – participants of educational expos leave feeling informed and empowered with knowledge that will assist them on their academic journey ahead.
Home and Garden Exhibitions
Home and Garden Exhibitions provide a unique platform for attendees to explore the latest advancements in home improvement, gardening, and landscaping. Not only do these events feature exhibitors showcasing their products, services, and ideas, but they also present educational seminars that are beneficial for both novice and experienced gardeners.
Attendees can find inspiration from creative displays of decorating tips, and landscape design ideas, as well as attend workshops on how to build or maintain an outdoor living space. These exhibitions offer something for everyone; from the savvy DIYer to the seasoned gardener:
Attendees can purchase plants & flowers directly from nurseries & greenhouses
There are opportunities to learn about new techniques & trends in gardening
People can get advice from experts on how best to care for their garden
These Home and Garden Exhibitions have become increasingly popular over recent years due to the wide range of activities available. Whether it be shopping for quality plants at great prices, learning new ways of growing vegetables, or simply browsing around the various stalls – there is always something interesting going on at these events.
Cultural Festivals
As a major hub for cultural exchange, Malaysia hosts a variety of vibrant festivals throughout the year that highlight its rich and diverse traditions.
These include:
Thaipusam – A Hindu festival celebrated in Penang, this event is filled with colorful ceremonies and rituals involving devotees carrying kavadis filled with offerings to a temple.
Gawai Dayak – An annual celebration for the indigenous people of Sarawak taking place on June 1st. It features traditional music, dance performances, and meals shared among friends and family.
Hari Raya Aidilfitri – Also known as Eid al-Fitr, this holiday marks the end of Ramadan, the Islamic holy month of fasting. Locals celebrate by visiting friends and family members or attending special events held in mosques across the country.
Chinese New Year – This two-week-long celebration honors ancestors and welcomes in good luck with parades featuring dragons, and lions dancing in the streets while firecrackers are set off throughout cities to ward off evil spirits.
These festive events provide visitors with an opportunity to experience Malaysia's unique culture firsthand while connecting with locals who open their hearts to all who come to share in their joyous celebrations.
In addition to these cultural festivals, Malaysia also hosts many tourism-focused trade shows throughout the year which bring together travelers from around the world seeking new experiences in one of Asia's most welcoming countries.
Tourism and Travel Trade Shows
An array of tourism-focused events take place in Malaysia throughout the year, giving travelers from around the world an opportunity to explore and discover new experiences.
Tourists looking for a unique cultural experience can attend festivals such as Thaipusam or Pesta Kaamatan, while those seeking exciting activities and adventures may find their way to international events like Malaysia International Travel Expo (MITE).
The country also plays host to many travel trade shows and expos, which offer opportunities for local businesses to showcase their products and services. One of the most popular events is the Malaysian Association of Convention & Exhibition Organisers & Suppliers (MACEOS) Trade Show.
Held twice a year in Kuala Lumpur, it brings together some of Malaysia's leading travel and tourism representatives from across all sectors including hotels, attractions, destination management companies, transport operators, and more. Visitors have access to seminars and workshops on topics ranging from marketing strategies for tourist destinations to responsible tourism practices.
Attending these trade shows is beneficial not only for businesses but also for tourists who are interested in finding out about new places or activities they can do in Malaysia. It allows them to meet with key industry players face-to-face and gain valuable insights into how best to enjoy the country's attractions.
Thus, these events provide a wonderful platform that connects locals with tourists while fostering economic growth at the same time.
What is the largest exhibition center in Malaysia?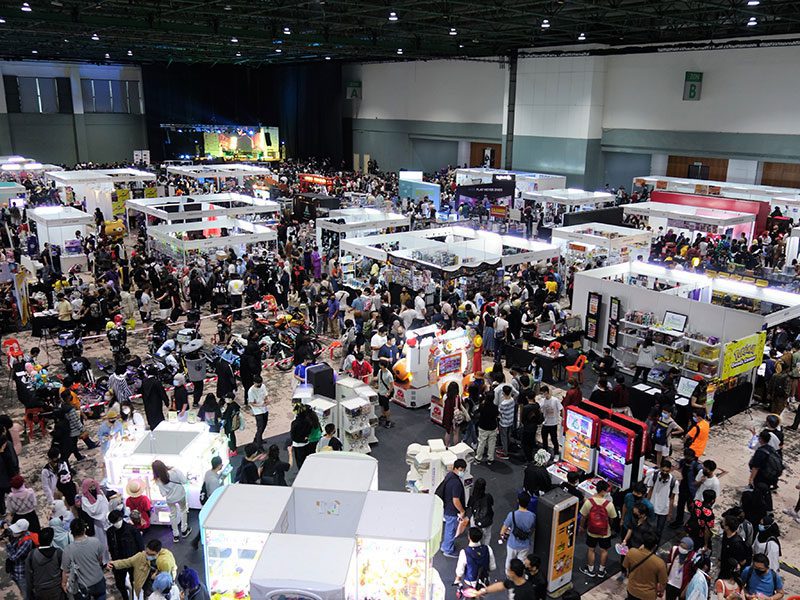 Boasting the title of being the largest exhibition center in the country, Malaysia's Putra World Trade Centre stands out as a beacon of knowledge and inspiration for attendees. Built on a sprawling complex that covers 4.3 hectares of land, this world-class facility is host to many international events such as conferences, conventions, and exhibitions each year.
As one of Southeast Asia's largest convention centers, the Putra World Trade Centre (PWTC) offers an expansive exhibit hall space that can accommodate up to 7500 people at any given time; making it suitable for any type of event from small-scale trade fairs to large-scale conventions.
The PWTC also provides an array of amenities including several fully equipped meeting rooms and conference halls that are ideal for business events or seminars; state-of-the-art audio-visual equipment rentals; catering services; secretarial services; accommodation services; transportation facilities; Wi-Fi access throughout the building; and ample parking spaces for guests.
All these amenities make PWTC the perfect venue for hosting world-class events and exhibitions in Malaysia.
The PWTC also features interactive digital signage displays throughout its premises, allowing exhibitors to showcase their products and services in high-definition detail with minimal effort required on their part. This feature has made PWTC even more popular among exhibitors as they can now easily reach out to potential customers without having to go through complicated setups or expensive marketing campaigns.
As such, it is no surprise that so many businesses have chosen the Putra World Trade Centre as their preferred venue when hosting exhibitions in Malaysia.